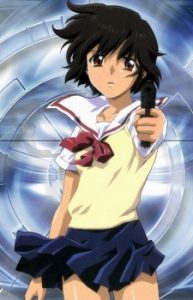 Series: Noir
Character: Yuumura Kirika
Type: School Uniform
Completed: v.1 in August 2002
Worn at: Manifest 2002
Cost: $60AUD

About this character
Kirika is one of the two members from Noir, an assassins group. Aloof by nature, during the day she is a regular high school student, while by nightfall she becomes a powerful and unbeatable assassin.
Why I love this character
On a personal level I've always related more to the nerdy looking, quiet girl who often kept to herself because as a teenager this was my life to a tee. Whilst I had friends, I certainly never felt like I fit in nor had anyone I could be myself around and found a lot of joy escaping online into the digital world. That and all throughout my teen years and childhood I sported a short hair cut just like Kirika's.
Fun facts on this costume
This was my first costume I'd ever made, and at the time I was so nervous and happy to finally join the cosplay community! Now when I look back at the costume I'm so appalled by the poor quality, but that also makes me happy to know how far I've come 🙂
Gallery
Photographer