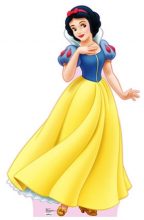 Series: Snow White and the Seven Dwarfs
Character: Snow White
Type: Princess
Completed: March 2009
Worn at: Supanova 2009
Cost: $250AUD
About the character
Snow White is a beautiful and kind princess living with her wicked stepmother, the Queen. Jealous of Snow White's beauty, the Queen forced her to work as a maid in the castle. that is until one day Snow White's beauty surpasses the Queen's.
Fun facts on this costume
While there were some small challenging aspects of this costume, overall most probably still one of the easiest to date. (Which actually can make it all the more difficult since errors are far easier to spot)
The wig was styled, but a bit too curly for my taste and the makeup is a tad too harsh for someone as delicate as Snow White. I think my favourite part would be the skirt part of the dress, it's actually two silk fabrics sewn together, which was extremely hard given how slippery they were! I needed the underneath layer for thickness and the top layer for the correct shade of yellow.
Overall, given it was sewn in 3-4 days in the evenings I'm quite pleased with it. Just a few tiny things I'd like to change bring it to the next level, but from what I can tell, no one has really noticed all my errors just yet. Oh, last thing. I know the sleeve bands are gold/yellow in the Disney version, but I didn't think it was a very flattering combo and altered them to watch the actual sleeves. Not the most accurate move, but in my opinion I think it looks a lot better.
I wasn't too pleased with the photo shoot, given our location wasn't really a "forest" settling, so I am planning to re-shoot in the future, with the correct shoes, better wig and makeup.
Gallery
Photographer