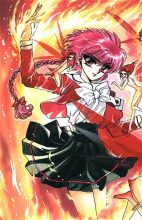 Series: Magic Knight Rayearth
Character: Shidou Hikaru
Type: School Uniform
Completed: April 2006
Worn at: Minifest 2006
Cost: $120AUD
About the character
Hikaru is a sweet, youthful and energetic 14 year old girl, whose life is changed forever when she is taken by a flash of light while on a school excursion on Tokyo Tower. Along with her new companions Fuu and Umi, Hikaru finds herself in Cephiro, where she must become a Legendary Magic Knight in order to save the land from destruction.
Why I love this character
What I love most about Hikaru is her inner strength and spirit. She's what I wish I was more like as a teenager growing up, confident, carefree and caring. I was most certainly a lot more timid that Hikaru was and she represented bravery to me.
Fun facts on this costume
I'm so happy with how the actual costume turned out! It was exactly what I wanted, I couldn't be happier~ My only complaints are the colour of the socks (my dye was too strong) and lack of time to properly style of the wig. But other than that, simple costumes done well make me happy!
Gallery
Photographer