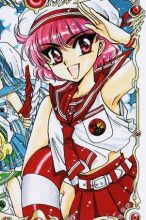 Series: Magic Knight Rayearth
Character: Shidou Hikaru
Type: Sailor Suit
Completed: February 2006
Worn at: Photoshoot only
Cost: $160AUD
About the character
Hikaru is a sweet, youthful and energetic 14 year old girl, whose life is changed forever when she is taken by a flash of light while on a school excursion on Tokyo Tower. Along with her new companions Fuu and Umi, Hikaru finds herself in Cephiro, where she must become a Legendary Magic Knight in order to save the land from destruction.
Why I love this character
What I love most about Hikaru is her inner strength and spirit. She's what I wish I was more like as a teenager growing up, confident, carefree and caring. I was most certainly a lot more timid that Hikaru was and she represented bravery to me.
Fun facts on this costume
I adore the details to this costume! I love all the components that brought this costume together. This costume is also very comfortable to wear, and hardly needs any "primping" to keep everything in place~ I really hope to wear this to a con in the future!
Gallery
Photographer