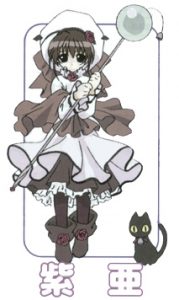 Series: Pita Ten
Character: Shia
Type: Demon Uniform
Completed: August 2004 (v1), July 2006 (v2)
Worn at: Manifest 2004, Mini-Animania 2006
Cost: $100AUD

About the character
Shia is a devil in training who moves in with Misha in Pita-ten. Her guardian is a small black cat called Nyaa, who tries his best to teach Shia how to be a good devil. Unfortunately, Shia continue to accidently do good things.
Why I love this character
I'll be honestly, I'm not sure I've watched Pita Ten through before, I think I've only ever seen snippets of the show. But that's really all I needed to fall in love with Shia, physically I felt like she was a good match (something I always look for when picking cosplay characters) and I love the idea of someone trying their best to do bad things, but always accidentally being good 🙂 It's adorable!
Fun facts on this costume
Version 2 – I'm so so much happier with the way this costume turned out, the remake was definitely worth it! I even managed to added the parts that were missing in version 1 too, so the entire costume is complete~ One thing thing I found annoying about the costume was ALL the things I had on my head! Wig cap + Wig + Big Brown Bow + Head cushion + Hat = A heavy headed Flipper.
Version 1 – I was sad that I couldn't finish the entire costume before Manifest 🙁 But such is life when you are busy. I definitely want to improve on the shoes next time round! And I want to finish off the costume before I do a proper photo shoot which should be soon. Overall, I did think I did a good job~ Thanks to this costume I was forced to learn how to use the sewing machine! Which will now come in very handy when I create future costumes~
Gallery
Version 2
Version 1
Photographer