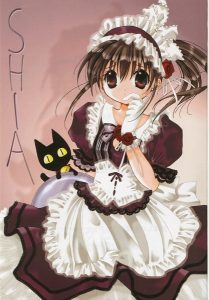 Series: Pita Ten
Character: Shia
Type: Waitress
Completed: September 2005
Worn at: Manifest 2005
Cost: $180AUD
About the character
Shia is a devil in training who moves in with Misha in Pita-ten. Her guardian is a small black cat called Nyaa, who tries his best to teach Shia how to be a good devil. Unfortunately, Shia continue to accidently do good things.
Why I love this character
I'll be honestly, I'm not sure I've watched Pita Ten through before, I think I've only ever seen snippets of the show. But that's really all I needed to fall in love with Shia, physically I felt like she was a good match (something I always look for when picking cosplay characters) and I love the idea of someone trying their best to do bad things, but always accidentally being good 🙂 It's adorable!
Fun facts on this costume
The wig was definitely my favourite aspect! It was light and easy to wear. It was such a comfortable costume to wear, and I adored the frills as they took forever and a day to handsew in! I just didn't like how the corset kept rolling up or down, I suppose next time I do a corset I'll be sure to add some interfacing.
I ran out of time to make the gloves, so maybe one day I'll finally make them and take new photos with Nyaa.
Gallery
Photographer