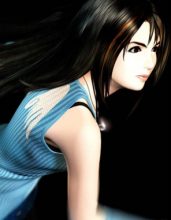 Series: Final Fantasy VIII
Character: Rinoa Heartilly
Type: Main Costume
Completed: February 2010
Worn at: EB Games Australia's Biggest Final Fantasy Fan
Cost: $100AUD
About the character
Rinoa is a member of the Forest Owls, a resistance faction seeking to liberate the small nation of Timber from Galbadian who falls in love with Squall Leonhart.
Fun facts on this costume
Rinoa is one of those costumes I never thought I would ever make. She's an exceedingly popular character that I never personally felt connected to, however when my friends K and Aly asked me to be their Rinoa to film the opening of FF8 for an EB Games competition, I couldn't say no. All the blue fabric was originally white, coloured with a customised blue dye I put together. I made the pattern based off an old vest I had and pretty much winged the rest as best I could (I was very pressed for time).
I absolutely love the boots, they are my favourite part! I can see them being reused many more times in the future. The only party that disappointed me with the wig, I sewed in brown highlights that was hardly visible in the end.
Gallery
Photographer