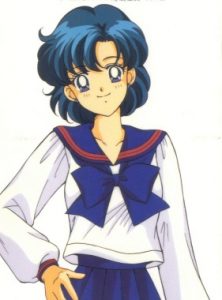 Series: Bishoujo Senshi Sailormoon
Character: Mizuno Ami
Type: Senior School Uniform
Completed: January 2005
Worn at: Manifest 2006
Cost: $60AUD
About the character
Quiet yet friendly, Ami strives towards her dream of becoming a doctor, however no matter how hectic her studies may become her friends are always given priority. When not studying, she fights villians as Sailormercury, Senshi of Ice/Water.
Why I love this character
Ami has been one of my most favourite characters since I first discovered Sailormoon! Firstly, blue is my favourite colour, as is the element water, and I completed my degree in IT and now work in IT -and- I have to admit I was a bit of a nerd / loner in high school. I had friends, but I remember spending a lot of time at the school computers during breaks and after school because that's where I felt most comfortable. I just relate to Ami on so many levels!
Fun facts on this costume
I'm in love with the collar, it's the best job I've ever done and all the ribbon was hand stitched because I was so determined to have the stitching perfect! Skirt is a little stiff, but this is fun and extremely simple costume to make.
Gallery
Photographer