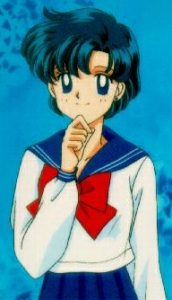 Series: Bishoujo Senshi Sailormoon
Character: Mizuno Ami
Type: Junior School Uniform
Completed: January 2006
Worn at: Photoshoot
Cost: $60AUD
About the character
Quiet yet friendly, Ami strives towards her dream of becoming a doctor, however no matter how hectic her studies may become her friends are always given priority. When not studying, she fights villians as Sailormercury, Senshi of Ice/Water.
Why I love this character
Ami has been one of my most favourite characters since I first discovered Sailormoon! Firstly, blue is my favourite colour, as is the element water, and I completed my degree in IT and now work in IT -and- I have to admit I was a bit of a nerd / loner in high school. I had friends, but I remember spending a lot of time at the school computers during breaks and after school because that's where I felt most comfortable. I just relate to Ami on so many levels!
Fun facts on this costume
This was a pretty rushed job, more of a costume I just had to get out of my system so I could say I did it and then move on! Quite a few things bothered me, but at least I've done it~!
Gallery
Photographer