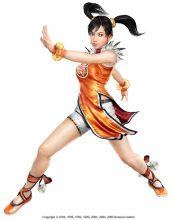 Series: Tekken 6
Character: Ling Xiaoyu
Type: Orange Version
Completed: November 2007
Worn at: Egames Expo 2007, Manifest 2009
Cost: $170AUD
About the character
Playful and carefree, Xiaoyu was born in China and trained to become a great martial arts expert. Her best friend and bodyguard is Panda, and in her free time she enjoys amusement parks. Her dream is to being an amusement park for all of China to enjoy.
Fun facts on this costume
I finally had a change to re-wear this costume (new photos are 7th and onward) and finish of most of the final details the night before I wore it! I embroidered the detail into the shorts, added detail to the back and included the feather on the sleeves. Much happier with it now, now if only I had more time to take better shots of all the new detail.
Gallery
Photographer