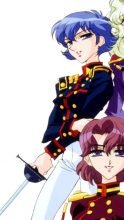 Series: Shoujo Kakumei Utena
Character: Kaoru Kozue
Type: Black Rose Duellist
Completed: September 2006
Worn at: Manifest 2006
Cost: $180AUD
About the character
Kozue is Miki's twin sister and secretary of the Student Council. Cruel, manipulative and seductive, she is rarely ever seen without someone from the opposite sex wrapped around her finger. Extremely possessive of Miki, she is willing to move heaven and earth to ensure Miki's attention is always focused on her.
Fun facts on this costume
I love this costume, it\'s one of my favourites! It's surprisingly comfortable (not surprising that it\'s more so than Rose Bride Kozue). I had to make the jacket twice, which I successfully lined. I also made the pants from scratch, molded the ring, styled and dyed the wig. With Toby's help, we were able to make the sword the night before I wore the costume. I even managed to wear some wonderful blue contacts with this costume.
I tried for ever single detail because I'd like my costumes skills to grow more true to the design as I progress in cosplay. I think the only things I wish I could improve on was the wig, the colour is too off despite three dye jobs! It also could have been better styled. And the pants were too wrinkled and big, though not bad for a first time, I think different fabric would be more suitable next time.
Gallery
Photographer