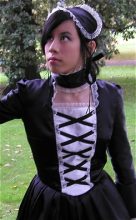 Title: Gothic Lolita
Theme: Lolita
Completed: April 2006
Worn at: Shi's Birthday Party
Cost: $80AUD
About the character
The concept of the golita lolita is extremely popular, and has in recent to not so recent years poured into the cosplay world. The lolita can take on various forms, from gothic to elegant and many more.
Fun facts on this costume
The entire costume was finished within two nights, it was a rushed job for a party I was attending. I was disappointed that my first original design had to be such a rush job as there were many things I wanted to fix, and a ton more I wanted to add since it's a rather "empty" costume.
However considering the time-constraints I was under, I was very happy with the outcome of the costume. I'm hoping to complete another related more complex design soon, this costume gave me many new ideas I hope to work with soon.
Gallery
Photographer