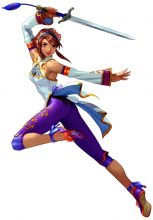 Series: Soul Calibur 2
Character: Chai Xianghua
Type: 1st Player
Completed: November 2008
Worn at: Egames Expo 2008
Cost: $150AUD
About the character
From a very young age Xianghua was taught to be a great fighter by her mother.
Fun facts on this costume
I was pretty pleased with this costume, I had originally wanted to embroider most of it, but due to lack of time I ended up using a lot of paint and ribbons. In retrospect I don't think anyone would have really noticed the difference unless they themselves were a cosplayer.
I adore the colours to this costume, my favourite part was probably the top and wig! I think brown hair strangely suits me and the top is very unique, I'd love to make more costumes just like this 🙂 Unfortunately I forgot to wear my earrings for this shoot 🙁 Maybe next time!
Next time I wear this costume, I'll be sure to have the sword finished, style the wig a bit of accurately and brush up on small things here and there.
Gallery
Photographer