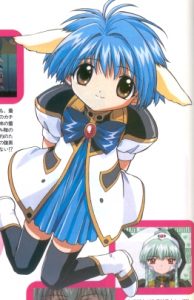 Series: Galaxy Angel
Character: Buramanshu Mint
Type: Angel Uniform
Completed: August 2003 (v1), September 2006 (v2)
Worn at: Manifest 2003, Manifest 2006, Egames Expo 2006
Cost: $120AUD
About the character
Mint is one of the five members from the Angel Squadron in the anime Galaxy Angels. Their team takes on various missions in space. Mint is usually situated at home base to control the computers. Despite her youth like appearance, Mint is actually a very mature and collected character. She is very kind and gentle to all teammates, while still maintaining her cute sense of humour. This page will focus on her Angel Uniform.
Fun facts on this costume
Version 2 – I can finally say I am truly happy with this costume! I took my time to line the jacket, hand sewed in the trim to make sure it was even and everything. It came out just the way I wanted, and I'm so glad that wig did as it was told. It was my first time truly doing wig styling that involved massive amounts of cutting and trimming. The costume was surprisingly very comfortable too, when you take your time to complete a costume they usually turn out really well for me 🙂
Version 1 – I was a little disappointed that there were many incomplete features of this costume due to time constraints. However I am glad I attempted this costume for I have learnt so much about costume making through it. If I had the time, and the money I actually would like to redo this costume because I know it could have been done so much better.
Considering the short about of time I had, and the fact that I basically took a stab in the dark for absolute everything, I am very happy with how the costume turned out. My unconditional love goes out to my mother who helped work the sewing machine, we make the perfect team.
Gallery
Version 2
Version 1
Photographer