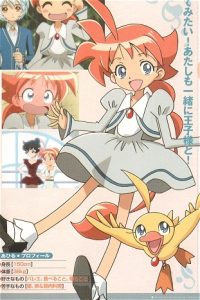 Series: Princess Tutu
Character: Ahiru Arima (Duck)
Type: School Uniform
Completed: November 2009
Worn at: Madman National Cosplay Championship 2009
Cost: $150AUD
About the character
A friendly, kind-hearted duck who was turned into a pre-teen girl by Drosselmeyer with a magical pendant. Due to her true nature, she tends to act very duck-like, talking loudly and excessively, and is easily excitable and clumsy. She is also friendly with other birds around campus, feeding them each morning.
Fun facts on this costume
I had a lot of fun dressed as Ahiru, very comfortable and easy to move in! Admittedly though, I know nothing about this character having never seen the series before. I did the costume to partner up with my dear friend Sefie, who is cosplaying the Mytho in the photo below 🙂 I most likely will not be doing a proper shoot with this costume, as much as I had fun wearing this costume, I'm just not crazy about it and would much rather spend my already limited photoshoot time on some bigger costumes in the works 🙂
I hope you enjoy my costume none the less, the wig was a pain to dye (started as a white wig and still was the wrong colour), as the dye I ordered didn't come in time, so I ended up making my own. Not to mention individually adding each curl! The costume itself was pretty easy, thank goodness since at the time I was pretty much working 7 days a week and really couldn't afford to do anything more complex.
Gallery